How to Repair Binding around
the Body of an Acoustic Guitar.
What is Acoustic Guitar Body Binding?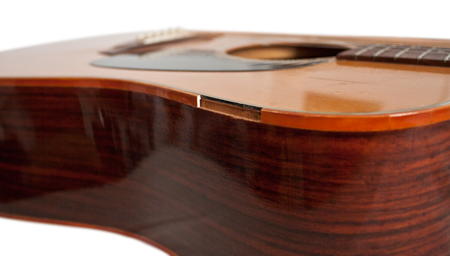 Almost all acoustic guitars have some type of binding around the edges where the top and back meet the sides. Many acoustic guitars also have binding around the fretboard and peghead. Acoustic guitar binding can be made out of many different kinds of material including: various woods, plastic, or celluloid. A "true" binding around the body of the guitar is inlayed or glued in a channel cut from the body. A router is used to cut a small channel or shelf on the edges of the guitar for the binding to sit on. The binding is then bent and shaped to fit the body and glued in place. Most of the time decretory purfling strips are usually inlayed next to the binding. Purfling strips are thin laminate pieces of wood dyed different colors.
You might ask, what is the purpose of binding on an acoustic guitar and why don't all guitars have binding. Acoustic guitars have the edges bound to create stronger joints between the top, sides, and back of the guitar. The binding acts almost as a brace around the outside of the guitar. It protects the fragile, grain edges of the top and back while helping attach them to the sides. Binding is important structurally and aesthetically. Your choice of binding can change the entire look of your guitar. Pearloid or celluloid binding will give the guitar a completely different look than wood binding. Solid binding also helps produce good tone.