How to Install and Repair
Electric Guitar Strap Buttons.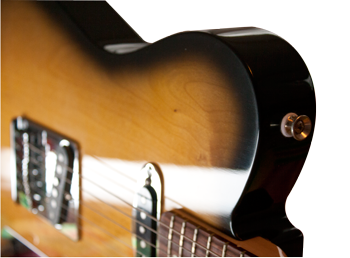 Electric guitar strap buttons come in two basic kinds: non-locking and locking. Almost every electric guitar made today comes with non-locking strap buttons. The only difference between locking and non-locking strap buttons is the locking strap button consists of two parts: one that attaches to the guitar and one that attaches to the guitar strap. Once the two pieces are connected together, the guitar strap cannot be slip off the strap button. It is "locked" in place. Strap locks are nice if you place a lot of shows and don't want your guitar falling off your shoulder. Otherwise, regular strap buttons work just fine. In this article, I will show you have to install strap buttons on your electric guitar as well as how to fix loose strap buttons.